Sklaer
Sklaer Toothbrush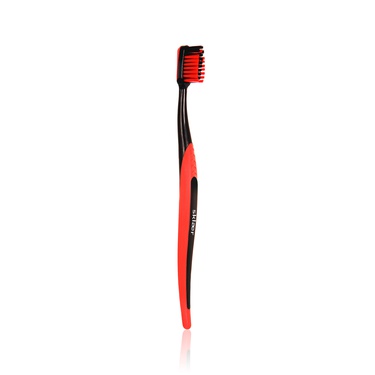 Black&Red
Sklaer toothbrush in branded black and red colors, effectively removes plaque, while gently massaging gums. Due to several levels of bristles, different in height, it effectively cleans both inner and outer teeth layers and interdental areas. Its non-slip handle provides secure use.
95 ₽
!
Can be paid with the Complimentary account
Skaler medium-bristled toothbrush is developed with the assistance of professionals, it effectively cleans mouth cavity, creating a perfect smile.
Rounded bristles don't hurt gums and enamel.
Different height of bristles levels effectively cleans inner and outer layers and interdental space.
Power tip bristles help to clean hard-to-reach places.
Extended external bristles softly massage gums.
Ergonomic non-slip handle provides comfort and secure use.
Handle: polypropylene ВР 100-СВ 25; Thermolast apigo 496924. Bristles: polyamide Tynex® fibers 6.12.
Apply a small amount of paste to a toothbrush, brush for 2-3 minutes, at least 2 times a day or according to your dentist's guidelines. It is recommended to change toothbrushes every 3 months.
Product feedback Sklaer Toothbrush
Оставь крутой отзыв! Хорошо, если твой отзыв будет конкретным (про вкус/цвет/текстуру/результат и т.д.) и подробным (не просто «нравится», но и почему).
Добавьте одну или несколько фотографий
Frequently bought with this item
Related items
Your location
Attention! Cart contents can be adjusted.