Energy Life
Energy Life Sweet Dream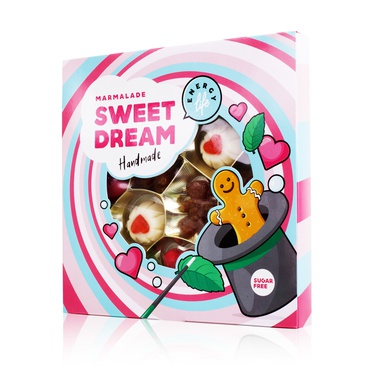 Fruit marmalade candies
Marmalade candies, shaped like desserts. Gingerbread man with cinnamon, caramel heart and butter toffee pudding came right from sweet fairy tales to become the best holiday treat for yourself and your friends.
Weight: 250 gr
Made in Russia
320 ₽
!
Can be paid with the Complimentary account
The marmalade candies with butter toffee, cinnamon-coffee gingerbread and creamy caramel flavors are based on pectin, apple puree and fructose. Natural handmade marmalade candies in a stylish box are a great treat to spoil yourself or someone else.
Pectin – removes toxins, normalizing metabolic processes.
Fructose – is a source of energy without extra calories.
Apple puree – is a natural source of vitamins and minerals (C, PP, E, B1, B2, potassium, phosphorus, calcium, magnesium, iron).
For:
Those, who love having fun and surprise others.
Those, who want to be remembered.
Those, who love real sweets.
For vegans.
Unusual flavors and shapes.
Unique recipes, based on apple puree and pectin. Sugar free.
Handmade. Each candy is shaped manually.
Great gift idea.
Fructose, water, maltodextrin, citrus pectin, apple puree, citric acid (antioxidant), potassium sorbate (preservative), natural colorants (white michrom, red michrom, curcumin, chlorophyllin), nature identical flavorings (cream-caramel, butter toffee, ginger, cappuccino coffee).
| | |
| --- | --- |
| Nutrition value | Per 100 g |
| Protein | 0 g |
| Fat | 0 g |
| Carbohydrate | 71 g |
| Energy value | 310 kcal(1 302 kJ) |
The product is ready to use.
Do not consume if intolerant to any of the ingredients.
Product feedback Energy Life Sweet Dream
Оставь крутой отзыв! Хорошо, если твой отзыв будет конкретным (про вкус/цвет/текстуру/результат и т.д.) и подробным (не просто «нравится», но и почему).
Добавьте одну или несколько фотографий
Frequently bought with this item
Related items
Your location
Attention! Cart contents can be adjusted.