Appetite control drops Functional candies
Appetite control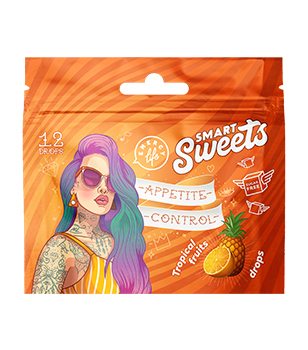 It's time for dreams to come true – get benefits of eating sweets. Functional candies Smart Sweets are colorful delicious drops made of healthy natural extracts, they contain smart formulas, vitamins and minerals. Functional candies with tropical fruit flavor work towards reducing hunger, stopping sugar craving and boosting metabolism. Delicious treats and comfortable way to lose weight.
12 pieces
Made in Russia
Можно оплатить с подарочного счета
Do you want to eat less and boost your metabolism? Then Appetite control drops were made for you! Due to the natural organic components, such as garcinia cambogia and hoodia gordonii, functional candies reduce hunger, letting you increase the time interval between meals and control portion sizes. Chromium picolinate helps to stop sugar cravings. The drops are good for everyday consumption.
For:
Active people.
Those, who care about safe components.
Those, who care about nutrition and weight.
Those, who are on a diet.
Those, who care about fresh breath.
Reduce appetite.
Stop sugar cravings.
Boost metabolism.
Activate fat burning process.
Natural active components.
No preservatives, artificial colorants or flavorings.
Sorbitol, acidity regulator, citric acid, garcinia cambogia extract, hoodia gordonii extract, anti-caking additives: magnesium stearate, silicon dioxide, nature identical flavoring (orange, pineapple), sugar substitutes: xylitol, sucralose, curcumin natural colorant, chromium picolinate.
Active components:
Garcinia cambogia – stabilizes blood sugar level, blocks fast carbs, transforming them into energy, regulates appetite, boosts metabolism, reduces uncontrolled eating, caused by low level of serotonin, lowers cholesterol.
Hoodia gordonii extract – reduces appetite due to its dietary fibers. Hoodia gordonii contains a special component which is appetite suppressant P75, which suppresses hunger and reduces uncontrolled eating.
Chromium picolinate is known for its ability to control appetite and hunger.
Suitable for everyday consumption. Not recommended in case of individual intolerance of the components, during pregnancy and lactation.
Рекомендуем также