First Edition Night Out
Eau-de-parfum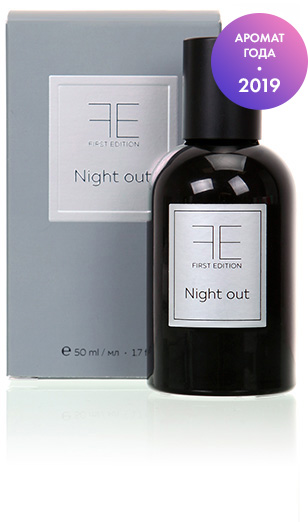 First Edition individual fragrances can tell your story without words. Instincts arousal has always been a mystery. Now you have a chance to step beyond the habitual boundaries! Night Out is a deep woody and smoky fragrance with light spicy hints.
Size: 50 ml
Made in France
FIRST EDITION is the selective perfume line, exclusively developed by French perfumers.
Night out is a deep, versatile woody and smoky scent with light Middle Eastern hints.
Initial notes: pine, cypress, pepper, violet.
Key notes: sandal, cloves, patchouli, cinnamon, citrus.
Base notes: cedar, sandal, birch, musk, benzoin (warm vanilla-honey notes).
For:
Those, who appreciate individuality.
Those, who love being different every day, but still stay themselves.
Those, who choose something special for themselves.
What is selective perfumery? Selective perfumery is exclusive perfumery, which is defined by:
Rare and quality ingredients, combined by professionals from Grass - world's perfume capital. Every composition contains nearly 100 components put together in a single harmonious blend.
Extraordinary, complex and unique fragrances. Fragrance is the key to connection between people. A perfume's fragrance can be perceived variously on different people, being an emphasis of one's individuality. Same ingredients can compose different blends, depending on a person, season, temperature or humidity. But nevertheless, it always leaves a rich and pleasant sillage.
A sillage is something, that creates an impression, attraction and stays in memory. A beautiful sillage is what distinguishes selective perfumery from mass-produced. Sillage or base notes are usually not perceived until 20-50 minutes after application. First Edition fragrances have long-lasting, full-bodied and unique waft.
ALCOHOL DENAT., PARFUM (FRAGRANCE), AQUA (WATER), EUGENOL, LIMONENE, HEXYL CINNAMAL, CINNAMAL, BENZYL BENZOATE, LINALOOL.
Once asked where to use perfume, Coco Chanel responded: "Wherever you want to be kissed".
One should wear perfume on a wrist, an earlobe, an elbow crease, neck or interclavicular ligament.
Рекомендуем также