Fineffect Baby Gel
Liquid Baby Laundry Detergent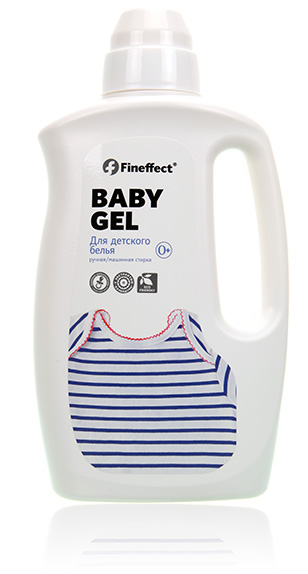 Gentle baby skin needs special care. That's why it is very important to use special baby laundry goods. Soft Fineffect Baby Gel easily deals with any kind of stains, contains only baby-safe and harmless components and has a gentle and subtle hypoallergenic scent. Its provides safe and gentle washing without harming your laundry, making it fresh, soft and saving the color. Calendula extract protects sensitive baby's skin. Dermatologists approved. Suitable for babies.
1000 ml
Made in Russia
Можно оплатить с подарочного счета
This gentle laundry gel is made of natural soap. Specially formulated and absolutely safe for newborn babies. Its components make the laundry soft and calendula extract protects and soothes sensitive baby's skin. The laundry gel, contains harmless ingredients, so it doesn't irritate skin and is easily rinsed out of fabric.
This concentrated gel is a great value, as it helps you use less detergent. Suitable for hand and machine washing.
For:
Those, who care about their family's and children's health.
Those, who are looking for effective laundry products.
Those, who don't like strong smells.
Those, who realize, that high quality helps to save money.
Safe for newborn babies.
It is suitable for all types of fabric.
Contains calendula extract.
Doesn't contain chlorine, phosphates, artificial flavorings or polyethylene glycol.
Saves color.
Easily rinsed out.
Value packaging.
Efficient in water of any hardness.
Active components
Due to its antibacterial, healing and softening qualities calendula extract protects and soothes irritated and sensitive skin.
Water <5%, anionic surfactants*, nonionic surfactants*, phosphonates, soap*, functional additives, preservative, calendula extract*, hypoallergenic scent.
*Based on plant components.
Use the cap as a measuring container (cap size = 60 ml, ½ cap = 30ml.)
Directions for use
How to use
Soil level
Machine wash
Low
Medium
High
Water hardness
25-30 ml
30-50 ml
50-70 ml
Water hardness: Medium
30-40 ml
40-50 ml
70-100 ml
Water hardness: High
50-60 ml
60-80 ml
100-120 ml
Hand wash
30-50 ml per 10 water liters
Рекомендуем также