Active Gel
Liquid Laundry Detergent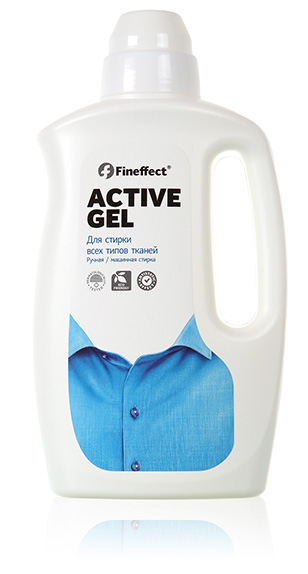 Eco-friendly liquid detergent is suitable for all types of laundry and fabrics. Easily deals with any kind of stains, even with tough and old soil. Its new formula delicately cleans clothes, without fibers damaging, preventing clothes shrinking. The laundry gel, contains harmless ingredients, so it doesn't irritate skin and is easily rinsed out of fabric.
Size: 1000 ml
Made in Russia
Можно оплатить с подарочного счета
Liquid laundry detergent with a tender almond scent effectively removes all kinds of stains, without harming your laundry. It is suitable for black, white, colored clothes and all types of fabric. Its new formula provides safe and gentle washing, dealing with toughly-soiled clothes and stains even in quick-washing mode. This concentrated gel is a great value, as it helps you use less detergent. Suitable for hand and machine washing.
For:
Those, who care about their family's health.
Those, who are looking for effective laundry products.
Those, who care about the result.
Those, who don't like strong smells.
Those, who care about the environment.
Those, who realize, that high quality helps to save money.
It is suitable for white, black and colored clothes.
Removes all types of stains.
Softens and protects fabric.
Easily rinsed out.
Efficient in water of any hardness.

Doesn't contain chlorine, phosphates, artificial flavorings or polyethylene glycol.
Water; <5% anionic surfactants*, nonionic surfactants*, soap*, isopropanol, phosphonates, polymer, tetra sodium EDTA, anti-static, functional additives, methylchloroisothiazolinone, methylisothiazolinone, flavoring**.
*Based on plant components.
**Based on almond essential oil.
Use the cap as a measuring container (cap size = 60 ml, ½ cap = 30ml.)
Directions for use

How to use

Soil level

Machine wash

Low

Medium

High

Water hardness

25-30 ml

30-50 ml

50-70 ml

Water hardness: Medium

30-40 ml

40-50 ml

70-100 ml

Water hardness: High

50-60 ml

60-80 ml

100-120 ml

Hand wash

30-50 ml per 10 water liters
Рекомендуем также