Eco cleaner Optics
Screens and glasses cleaner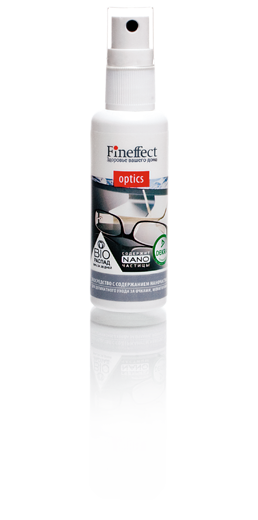 Eco cleaner Optics contains nanoparticles, which delicately cleans glasses and screens.
It is compatible with glass and polycarbonates. Gently cleans, without damaging anti-glare and protective coverages.
Size: 50 ml
Made in Germany.
Можно оплатить с подарочного счета
Eco cleaner Optics is a clear look at glasses, screens and monitors to be cleaned. Removes stains, marks and fingerprints from all delicate surfaces, including photo and video equipment. Do not use for contact lenses.
Innovative ingredients give a brilliant result.
Doesn't contain harmful substances.
Has an antistatic effect.
For:
Those, who care about their family's health.
Those, who are looking for effective laundry products.
Those, who don't like strong smells.
Those, who care about the environment.
Those, who realize, that high quality helps to save money
Innovative ingredients remove all types of soil from home digital ad optical equipment.
Leaves no streaks.
Safe for anti-glare and protective coverages. Contains no dissolvers.
100% safe for people and pets. Harmless for skin. Recognized by Derma Consult.
Leaves a special protective membrane, making cleaned surfaces dust-and dirt-resistant, keeping it clean for a longer time.
99% biodegradable. Safe for environment and animals. Confirmed by Ecolabel.
European quality. Corresponds to high quality standards.
Value pack (spray bottle).
Anionic surfactant <5%, non-anionic surfactants<5%, 1-metoxy-2-propanol <5%, isopropanol <5%, emulgator <5%, preservatives, flavoring additive, limonene.
For optical surfaces, CD and DVD: apply to a surface, leave for 10-15 seconds, wipe gently with a fibreless cloth.
For screens, monitors, TV, plasma displays, mobile phones and navigation systems: apply to a fibreless cloth, wipe with gentle motions.
To clean glasses, it's enough to use spray once, its long-lasting effect will let you use a simple dry cloth for the next week.
Do not rub surfaces, this may cause damage of the protective membrane.
Use fibreless, non-woven fabric wipes (not microfiber), or paper towels.
Рекомендуем также