Eco cleaner Brilliance
For glass and mirror surfaces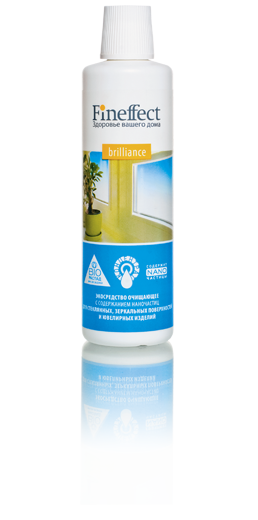 Eco cleaner contains nanoparticles for glass surfaces and jewelries, making them shiny and clean.
Size: 250 ml
Made in Germany
Можно оплатить с подарочного счета
Brilliance is a unique liquid cleaner for glass, mirror and glossy surfaces, which makes cleaning process pleasant and easy.
High concentrated. It lasts 8 times longer, than regular liquid cleaners.
Safe, non-toxic ingredients, without chemical smell.
No need to rinse, leaves no streaks.
For:
Those, who care about their family's health.
Those, who are looking for effective laundry products.
Those, who don't like strong smells.
Those, who care about the environment.
Those, who realize, that high quality helps to save money
Effectively removes over 100 types of soil from different surfaces.
High concentrated, so you use less and it's a great value. 1 bottle=1,5 years.
100% safe for people and pets. Harmless for skin. Recognized by Derma Consult.
Leaves a special protective membrane, making cleaned surfaces dust-and dirt-resistant, keeping it clean for a longer time.
99% biodegradable. Safe for environment and animals. Confirmed by Ecolabel.
European quality. Corresponds to high quality standards.
Value for money.
Anionic surfactant <5%, non-anionic surfactants <5%, isopropanol <5%, methoxyisopropanol <5%, emulgator <5%, stabilizer <5%, preservatives <5%, flavorings, limonene.
To clean glass or mirror surfaces, mix cleaning concentrate with water (mix ratio 1:10), spray on a surface, wipe with a fibreless cloth.
To get the base ratio of 1:10, pour 500 ml water into a spray bottle, add 5 caps of Brilliance.
To clean jewelry, pour the cleaning concentrate into a container, put a piece of jewelry into the mixture for 5-10 minutes, polish with a soft cloth.
Do not rub the surface, you may remove the protective nanolayer.
Use fibreless, non-woven fabric wipes (not microfiber), or paper towels.
Рекомендуем также