Buckwheat tea Enerwood Fashion
Clitoria and rose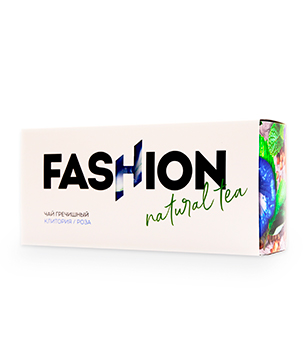 We took all the best from the highest quality tea blends and presented it in the unique taste of FASHION Tea. Fashion Tea is just perfect: its taste, its rich aroma, its stylish packaging.
An unexpected combination of Tatar buckwheat with sophisticated notes of Sudanese rose complemented by Clitoria flowers, which give the tea a beautiful purple color.
Components of the tea:
Buckwheat is a source of vitamins and antioxidants;
Sudanese rose (hibiscus) contains vitamin C;
Strawberry is known for its health-boosting properties;
Clitoria helps to reduce stress.
Gluten-free
Caffeine-free
20 pyramid tea bags
Made in Russia
Можно оплатить с подарочного счета
The rich taste of Tatar buckwheat is a perfect complement to flavoury strawberry leaf. This composition is exquisitely complemented by a bouquet of Sudanese rose petals and exotic Clitoria, giving the drink an incredible purple color. Silk pyramids in individual envelopes preserve the structure of the blend, letting you enjoy the true richness of the taste.
The size of tea components is chosen in a way that corresponds to the highest standards of large-leaf tea blends. That's why to reach the idyllic balance of taste and aroma, we recommend to steep it for not less than 4 minutes.
For:
Those, who appreciate the beauty in everything: in clothes, in life, in food and drinks.
Those, who appreciate quality and taste.
Those, who appreciate the present.
Stylish blends of luxurious tea culture. Fashion Tea composition was inspired by the most delicious varieties of restaurant tea menus. Fashion Tea is something that is usually served in quality cafes and classy restaurants.
High quality - in its production only fresh and choice ingredients are used. Due to special technologies, the process of grinding and blending doesn't cause much damage to plant tissues, which saves its healthful substances.
Individual packaging - silky pyramids, chosen for this tea and wrapped in individual foil envelopes save the structure and its original blend, letting you enjoy the full uniqueness of the taste.
Convenient – make it anywhere you are- at home, work or on a journey.
Stylish package – it is not only pleasant to drink, but also could be a nice gift.
Ingredients: Tatar buckwheat seeds, hibiscus flowers (Sudanese rose), strawberries (leaf), clitoria (flowers).
Buckwheat seeds are an important source of vitamins and antioxidants. Eliminate excess fluid from the body, stimulate metabolism.
Sudanese rose (hibiscus flowers) is rich in vitamins and minerals. It quenches thirst and gives a powerful energy boost. A source of vitamin C.
Strawberry leaf contains a lot of vitamins. Helps to strengthen the immune system, improve appetite, and normalize digestive processes.
Clitoria - has antioxidant properties, reduces appetite, helps fight stress. Clitoria flowers infusion gives the tea a beautiful purple color.
Pour 200 ml of water, boiled to 80-90°С over a tea pyramid.
Steep for 4-5 minutes to reach the idyllic taste and aroma.
Do not consume if intolerant to any of the ingredients.
Рекомендуем также