Every Sticks
tea sticks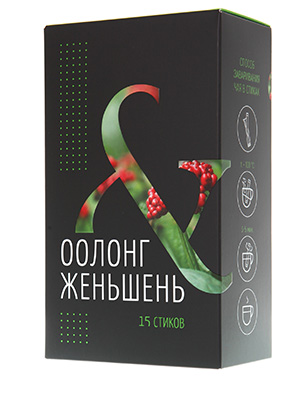 A tea stick is a modern, convenient and completely new way of packaging. It is intentionally designed to convey the full aroma of unique ginseng, combined with tender acai berries aftertaste and rich oolong flavor. This exclusive blend will be a great addition to your Every tea collection.
30 g (15 tea sticks/2g)
Made in Russia
Ginseng oolong, known as Xian Ping Vang is truly an exceptional Chinese tea blend. The wonderful combination of oolong tea and ginseng creates an exquisite infusion that is very enjoyable. Moreover, it boosts the immune system which promotes effective blood circulation process, stimulates fat splitting and brain and body capacity.
Ginseng is known for its positive effect on general health:
boosts energy and mood;
improves brain capacity;
supports nervous system.
Black currant and acai berry adds unusual taste and rich aroma.
It strengthens the immune system, helping the body fight viruses and bacteria, especially in winter.
For:
Those, who appreciate the beauty of life.
Those, who appreciate quality and taste.
Those, who appreciate the present.
High quality – only fresh and choice ingredients are used for its production. Due to special technologies, the process of grinding and blending doesn't cause much damage to plant tissues, which saves its healthful substances.
Convenient – make the perfect cup of tea at home or on the go.
Useful package – the perforated tea sticks are intentionally designed to diffuse the full aroma of the blend. Such packaging saves all healthful qualities.
Ingredients: Chinese bohea partially oxidized oolong-like tea, ginseng root (extract), black currant (leaf), acai berry (extract).
Directions: extract a stick from the protection film, put the stick into a cup perforated part down and pour hot water, steep for 3-5 minutes. Add sugar if needed and stir with the stick.
Рекомендуем также