Every Herbal Green
Green tea with thyme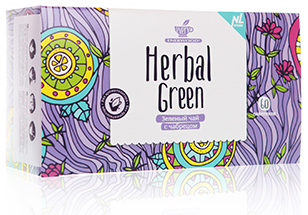 The rich taste range of green tea, combined with a herbal fragrance of thyme and a sourness of lemon create an unforgettable natural taste, moreover, it is enriched with vitamins and microelements.
Net weight: 120 g
60 tea bags with tags (2 g)
Made in Russia
Можно оплатить с подарочного счета
Summery light green tea with thyme and lemon took the best of nature, it energizes, protecting immune system and improving appetite. Its fragrance reminds of a summer meadow and will be a good choice for those who love field flowers and herbs. Thyme tea is known since ancient times as a healthful and delicious drink.
For:
Those who love delicious tea.
Those who look after health.
Those who care for tea ingredients.
Those who want to make tea at any place.
Created by professionals – unique tea blends of Enerwood Every Special are created by an exclusive for NL master of tea making - Romanyuk V.
For real gourmands – the choicest sorts of black and green tea reveal its real taste when combined with savory spices, fragrant herbs and fruits.
More than just tea - the collection is based on reishi mushroom, which is an eastern secret of youth, health and beauty. It was initially mentioned in the very first book of eastern medicine, considered a №1 product among 365 sorts of herbs and funguses with the best medicinal qualities.
High quality – only fresh and choice ingredients are used for its production. Due to special technologies, the process of grinding and blending doesn't cause much damage to plant tissues, which saves its healthful substances.
Convenient – make it anywhere you are- at home, work or on a journey.
Useful package – each bag is put in a special envelope, made of foil, paper and a plastic membrane. Such a package saves all its healthful qualities.
Chinese green tea, thyme (thymus serpyllum), lemon peel, ginger (root), reishi mushroom.
Chinese green tea – is made of upper young leaves of tea bushes, has a fresh and tangy taste. It is proven that green tea is a powerful antioxidant, improving skin condition, increases workability and promotes weight loss.
Lemon peel – it adds a delicate citrus sourness to the tea taste. Due to essential oils, contained in the peel, it boosts mood, helping to fight stress and improving digestion.
Reishi mushroom - It is a unique plant adaptogen, having no alternatives, it is also a natural immune booster, healthful qualities of which are well known since ancient times. It is widely used for anti-stress and medicinal purposes in eastern countries. It also provides production of interferon, which is a type of protein, stimulating body protection and antibacterial functions.
Thyme – is a natural antiseptic, having powerful disinfecting qualities. It is based on essential oils, organic and inorganic acids, vitamins B and С, which promote immune system boosting.
Ginger root – has a general immune supporting quality, improves metabolic processes, lowers cholesterol level, is also rich with amino acids, cellulose, vitamins and microelements.
Pour 200 ml of water, boiled to 80-90°С over a tea bag, steep for 3-5 minutes.
Do not consume if intolerant to any of the ingredients.
Рекомендуем также