Every Mix
Black, green and red tea with reishi mushroom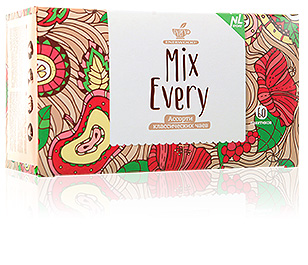 Every mix – it's a mix of black, green and red sorts of tea in a new stylish package, with 60 tea bags in it. It's a unique opportunity to appreciate the taste of the whole Enerwood Every tea collection. Choose whichever you want and pick your favorite one.
Net weight: 120 g
60 tea bags with tags (2 g)
Made in Russia
Можно оплатить с подарочного счета
Enerwood Every Special is a mix of three fragrant tea tastes, for those who can't choose and want to fully appreciate the benefits of different types of tea.
For:
Those who love delicious tea.
Those who look after health.
Those who care for tea ingredients.
Those who want to make tea at any place.
Exclusive recipes – unique taste of Enerwood Every is achieved by means of a combination of classic black, green and red tea with plant components (fireweed/ willowherb, black currant, raspberry).
High quality – only fresh and choice ingredients are used for its production.
Maximal value – Due to special technologies, the process of grinding and blending doesn't cause much damage to plant tissues, which saves its healthful substances.
More than just tea - the collection is based on reishi mushroom, which is an eastern secret of youth, health and beauty. It is a unique plant adaptogen, having no alternatives, it is also a natural immune booster, healthful qualities of which are well known since ancient times.
Convenient – make it anywhere you are- at home, work or on a journey.
Useful package – each bag is put in a special envelope, made of foil, paper and a plastic membrane. Such a package saves all its healthful qualities.
Every Black: Ceylon black tea, fireweed/willowherb (fermented leaves), hibiscus tea, lemon peel, licorice root, pepper mint (leaves), Chinese magnolia-vine (berries), reishi mushroom/ganoderma, lemon food flavoring.
Every Green: Chinese green tea, black currant (leaves), black currant (berries), licorice root, pepper mint (leaves), reishi mushroom/ganoderma, black currant food flavoring.
Every Red: Hibiscus (blooms), apple (fruit), raspberry (berries), licorice root, reishi mushroom, raspberry food flavoring.
Pour 200 ml of water, boiled to 80-90°С over a tea bag, steep for 3-5 minutes.
Do not consume if intolerant to any of the ingredients.
Рекомендуем также