Every Red
Fruity-floral tea with hibiscus and reishi mushroom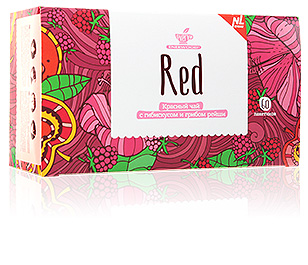 This rich ruby tea has a sweat and sour taste, complimented with a summary freshness of raspberry, ripe apples, a tangy sweetness of licorice and a delicate rose hips scent. It perfectly quenches thirst, eases a feeling of tension and revitalizes.
Net weight: 120 g
60 tea bags with tags (2 g)
Made in Russia
Можно оплатить с подарочного счета
This unusual drink is made of sun dried Sudanese rose petals (hibiscus). It contains 13 fruit acids, vitamins and bioflavonoids, which affect positively the entire organism. Such a drink revitalizes, quenches thirst, eases tension, helping to fight a feeling of fatigue.
Ripe raspberry gives Every red a unique fresh summery taste. Rose hips and apple make the tea rich with intense fruity hints. More than that it activates protective capabilities of your body, having general strengthening qualities. Can be consumed cold as well as hot.
For:
Those who love delicious tea.
Those who look after health.
Those who care for tea ingredients.
Those who want to make tea at any place.
Exclusive recipes – unique taste of Enerwood Every is achieved by means of a combination of classic black, green and red tea with plant components (fireweed/ willowherb, black currant, raspberry).
High quality – only fresh and choice ingredients are used for its production.
Maximal value – Due to special technologies, the process of grinding and blending doesn't cause much damage to plant tissues, which saves its healthful substances.
More than just tea - the collection is based on reishi mushroom, which is an eastern secret of youth, health and beauty. It is a unique plant adaptogen, having no alternatives, it is also a natural immune booster, healthful qualities of which are well known since ancient times.
Convenient – make it anywhere you are- at home, work or on a journey.
Useful package – each bag is put in a special envelope, made of foil, paper and a plastic membrane. Such a package saves all its healthful qualities.
Hibiscus (blooms), apple (fruit), raspberry (berries), licorice root, reishi mushroom, raspberry food flavoring.
Hibiscus – gives a rich ruby shade together with a pleasant sour hint. Contains vitamins and microelements complex revives and tones your body, helping to fight infections.
Apple – its sweetness with delicate sourness perfectly compliment the taste of the tea, enabling body's protective qualities.
Rose hips - it perfectly quenches thirst, making the tea taste tangy and eases a feeling of tension, stimulating mental capacity.
Raspberry- with its rich and summery aroma it gives the drink pleasant and berry taste which perfectly complements the tea blend.
Licorice – makes the taste of the tea deeper and richer and increases qualities of other ingredients. Contains glycerol acid, which is a substance with a unique bio-activity. In traditional Chinese medicine it is widely used for its rejuvenative qualities. It not only boosts immune system, but also has an anti-inflammatory and anti-allergic effects.
Reishi mushroom - It is a unique plant adaptogen, having no alternatives, it is also a natural immune booster, healthful qualities of which are well known since ancient times. It is widely used for anti-stress and medicinal purposes in eastern countries. It also provides production of interferon, which is a type of protein, stimulating body protection and antibacterial functions.
Pour 200 ml of water, boiled to 80-90°С over a tea bag, steep for 3-5 minutes.
Do not consume if intolerant to any of the ingredients.
Рекомендуем также