Valery
Soothing tea drink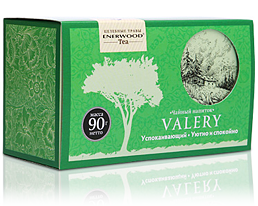 It's an amazing solution for stress. There is a great combination of herbs, traditionally used in folk medicine as calming agents. The herbal tea improves physical state, reduces tiredness and delirium, boosts energy.
Net weight: 90 g
30 double tea bags (3 g)
Made in Russia
Nowadays, life might be very stressful, which affects not only mood, but also physical condition. Among most frequent consequences of stress there are: chronic fatigue, sleeping disorder, headaches, anger attacks, allergy, etc. If no measures are taken, the symptoms may lead to various diseases.
Valery herbal tea is an amazing solution for stress. It contains herbs, traditionally used in folk medicine as calming agents. The name of the tea derives from the Latin word "valery", which is translated as "being healthy", it fully corresponds to all the healthful qualities of the product. The herbal tea improves physical state, reduces tiredness, boosts energy. The herbal components are good for over-excitement, insomnia and migraine treatments, as well as for digestive system disorders, followed by nervous disturbances.
For:
Those who love delicious tea.
Those who look after health.
Those who care for tea ingredients.
Those who want to make tea at any place.
Familiar tea taste – Enerwood Tea is based on quality black and green sorts of tea, complemented with healthful phytocomponents. It is really pleasant to drink, unlike regular pharmaceutical herbal tea.
Exclusive recipes – unique tea blends of Enerwood Tea are created by an exclusive for NL master of tea making - Romanyuk V. (Candidate of Biological Science).
Proven effectiveness – the quality and biological activity of the tea components is confirmed by an independent expert examination of the Siberian Branch of the Russian Academy of Sciences.
Made of Altai herbs – the ingredients of the phito-tea are grown in ecologically clean regions of Altai. The herbs are harvested at the right time, when they contain a maximal amount of healthful substances.
High quality – in its production only fresh and choice ingredients are used. Due to special technologies, the process of grinding and blending doesn't cause much damage to plant tissues, which saves its healthful substances.
Safe package – When open, the herbs easily lose their healthful qualities, that's why the hermetically sealed foil package protects the contents from moisture, light and foreign smells, saving its taste and aroma.
Pharmaceutical chamomile (booms), common motherwort (herbs), domestic apple (fruit), cinnamon (bark).
Common motherwort – has a sedative effect on nervous and heart circulatory systems, lowers blood pressure and heart rate, while strengthening its contractions force. Motherwort is indicated for nerve excitability, neurasthenia, hysteria, hypochondria, heart circulatory system neurosis, for initial stages of essential hypertension, cardiosclerosis, angina, menopause and neuralgia.
Chamomile – provides a soothing effect, calming nervous system, reduces headaches, normalizes arterial pressure, improves blood circulation. The use of chamomile leads to strengthening of heart functions and regulation of depth of breathing.
Apple – provides normal heart and vessels functioning, improves appetite, prevents anemia and promotes faster healing of injuries, burns and infectious diseases.
Cinnamon – stimulates digestive processes, blood circulation, breathing, has an antibacterial and an antiseptic effect. Is used to improve digestion, reduce pain and to treat gastritis, respiratory or rheumatic diseases.
Pour 200 ml of water, boiled to 80-90°С over a double tea bag.
Steep for 5 minutes.
Use as a tea bag.
Can be consumed with sugar, lemon or honey.
Do not consume if intolerant to any of the ingredients.
Рекомендуем также