Purple shaker cup
A plastic shaker cup for preparing Energy Diet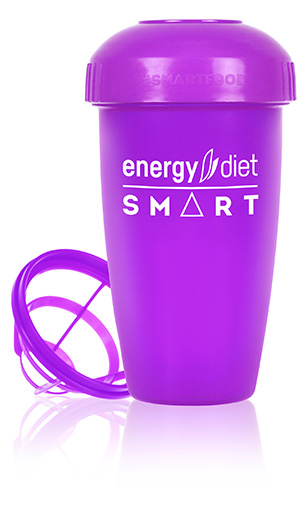 A trendy shaker cup for easy preparation of one serving of Energy Diet. With its bright and stylish design, you will always be in the spotlight. The convex measuring scale makes it easy to follow the recipe's precise amounts, and the spring-shaped mixer ensures your cocktail is lump-free and perfectly mixed.
300 ml capacity
Made in Russia
Можно оплатить с подарочного счета
This bright shaker cup is indispensable for preparing your favorite Energy Diet drinks. The spring-shaped mixer inside the shaker cup lets you prepare a lump-free, homogeneous drink. Hermetic cap ensures tight closure even during vigorous shaking. You can take the shaker anywhere with you. The measuring scale will make sure you have the precise proportions.
Stylish design
Compact size
High-quality, durable material
Dishwasher safe
Suitable for car cup holders
Ergonomic shape, doesn't slip out of your hand
Use it to make cold and hot cocktails from the ED HD. Just place the ingredients inside, tighten the lid and shake vigorously.
Рекомендуем также