Multi protection cream
For all skin types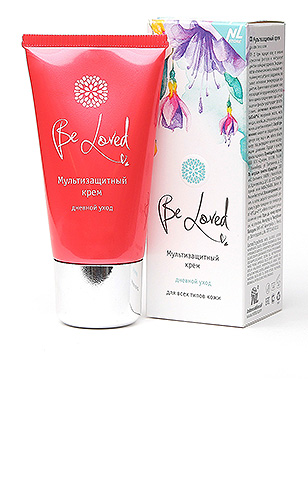 The active formula of the cream provides solid protection from cold wind and frost. It's quickly absorbed by skin, gently soothing it, which is extremely important in autumn and winter.
50 ml 1,7 fl.oz.
Made in Russia
Можно оплатить с подарочного счета
The cream protects skin from exogenous factors, neutralizing free radicals. Its active components enhance local immunity, reduce irritation and give intensive regenerative effect. The cream soothes and comforts skin, which is very important in cold seasons. Sunscreen filters prevent photoaging.
For:
Those who are looking for personal treatment program.
Those who appreciate stylish packaging.
Those who consider quality and safety important.
Those who need to see results.
Building material for cells CellCode®57 (21 amino acids, 19 vitamins, 8 mineral salts, 6 nucleoids, 3 carbohydrates.) – 57 elements for a normal cell functioning. It's an exclusive development of Russian scientists, which is able to start regenerative processes in skin, stimulate new cells creation and provide a long-term anti-aging program. It's easily absorbed by skin, while bringing active components to the deepest layers of epidermis.
Reduces irritation and inflammation.
Almond, jojoba, shea, argan and mango oils recover upper layers of epidermis.
Konjac-mannan and hyaluronic acid intensively moisturize skin and activate collagen synthesis.
Vitamin E revitalize skin and enhances complexion.
SLS and paraben- free.
Active components: СellСode®57, hyaluronic acid, almond oil, jojoba oil, shea oil, argan oil, mango oil, conjac-mannan, allantoin, vitamin E.
Ingredients: WATER, CELLCODE57, GLYCERIN MONOSTEARATE; DIGLYCOL STEARATE, POLYSORBATE-20; PEG-40 HYDROGENATED CASTOR OIL; HYDROXYPROPYL GUAR; MAGNESIUM SILICATE, ISONONYL ISONONANOATE, CETEARYL ETHYLHEXANOATE, COCO-CAPRYLATE/CAPRATE, JOJOBA OIL, BUTYROSPERMUM PARKII, PRUNUS AMYGDALUS DULCIS (SWEET ALMOND) OIL, SODIUM HYALURONATE, AMORPHOPHALLUS KONJAC ROOT EXTRACT, PANTHENOL, GLYCEROL, ARGANIA SPINOSA KERNEL OIL, MANGIFERA INDICA SEED OIL, BORON NITRIDE, TOCOPHEROL, BEESWAX, ALLANTOIN, SILVER CITRATE, FRAGRANCE.
Apply onto clean skin on face and neck, avoiding eye area.
Spread evenly with easy massaging motions.
Suitable as a make-up base (use 15 minutes before make-up and 30 minutes before going outside).

How to apply the cream according to massaging lines

Massaging lines correspond to collagen fibers and lymphatic system. The lines go through the least stretched skin zones, which helps to reach maximum benefit from the treatment.

Line application directions

Forehead - from center towards temples.
Nose – downwards on sides and from tip towards nasal bridge.
Chin – from center along protruded part of lower jaw towards earlobes.
Cheeks – from both mouth corners towards middle of pinna; from nostrils towards temples.
Neck – the product is applied to right and left sides, one-at-a-time. Spread the cream bottom-up towards chin, avoiding thyroid gland area. On the nape of your neck the cream should be applied top down towards shoulder blades.
Do not use if intolerant to any of the components.
Рекомендуем также