Aqua fluid care for eye area
For all skin types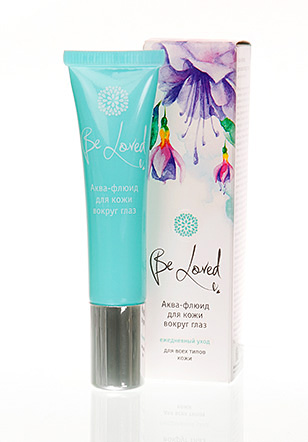 Aqua fluid for eye area has light and melting texture, which is immediately absorbed by skin, without a feeling of stickiness and oiliness. Its exquisite aroma contains musky bergamot, tender apple blossom, summery jasmine, sandalwood, ylang-ylang and vanilla scents. A.S.T.- base (Aqua Source Technology) components, which are very similar to skin cells naturally embed in skin structure and hydrate it. Marine collagen improves elasticity and flattens mimic wrinkles. Unique formula of aqua fluid takes care of gentle eye area, eliminates aging signs, as a result, recovers skin elasticity and is more youthful, radiant and firmer.
15 ml 0,5 fl.oz
Made in Russia
Можно оплатить с подарочного счета
Has a powerful moisturizing effect, prevents transdermal dehydration, protects delicate eye area skin from exogenous factors. As a result, skin becomes lifted, bright and smooth.
For:
Those who are looking for personal treatment program.
Those who appreciate stylish packaging.
Those who consider quality and safety important.
Those who need to see results.
A.G.E.-matrix (resveratrol, marine collagen, ceramides)- powerful anti-aging complex fights the cause of wrinkles appearance. Active protein literary pushes out wrinkles from the inside, improving collagen and elastin fibers. Resveratrol (grapevine antioxidant) protects from UV-radiation, natural ceramides moisturize skin, preventing dehydration.
Building material for cells CellCode®57 (21 amino acids, 19 vitamins, 8 mineral salts, 6 nucleoids, 3 carbohydrates.) – 57 elements for a normal cell functioning. It's an exclusive development of Russian scientists, which is able to start regenerative processes in skin, stimulate new cells creation and provide a long-term anti-aging program. It's easily absorbed by skin, while bringing active components to the deepest layers of epidermis.
Has an ultralight melting structure, is instantly absorbed.
Provides long-term hydration.
Reduce mimic wrinkles.
Eliminates swellings and dark under-eye circles.
WATER, CELLCODE®57, A.S.T.-BASE (SODIUM PCA (AND) SODIUM HYALURONATE (AND) HYDROLYZED ELASTIN), POLYMETHYLSILSESQUIOXANE (AND) ISOHEXADECANE (AND) CETEARYL METHICONE, GLYCEROL, PANTHENOL, TOCOPHEROL, SPIRULINA EXTRACT, CROTON LECHLERI RESIN EXTRACT, CHONDRUS CRISPUS (CARRAGEENAN) EXTRACT, HYDROLYZED COLLAGEN, CARRAGEENAN, HAMAMELIS VIRGINIANA (WITCH HAZEL) EXTRACT, ALOE BARBADENSIS LEAF EXTRACT, CUCUMIS SATIVUS FRUIT EXTRACT, CHODRUS CRISPUS EXTRACT, ASPARAGUS OFFICINALIS EXTRACT, BORON NITRIDE, VINYL DIMETHICONE CROSSPOLYMER (AND) SILICA, AZULENE, CHITOSAN, ACRYLATES/C10-30 ALKYL ACRYLATE CROSSPOLYMER, SILVER CITRATE, ALLANTOIN, FRAGRANCE.
After general cleansing, apply a small quantity of the gel to eye area skin with easy patting motions. Do not rub in.
Use daily in the morning and evening. (morning- 30 minutes before going outside, evening-not later than 2 hours before going to bed).

How to apply

The cream should be applied along orbit bone, not touching moving parts of lids.
To upper lids the cream is applied from nasal bridge towards temples. To lower lids it is applied from outside eye corner towards inside eye corner.
Firstly, put tiny spots of the cream on the area along orbit bone, then spread the cream with gentle patting motions from bone towards eye.
It is better to apply the cream with your ring finger as gently as possible, without pushing or stretching skin.
Do not use if intolerant to any of the components.
Рекомендуем также