Intensively nourishing cream
For all skin type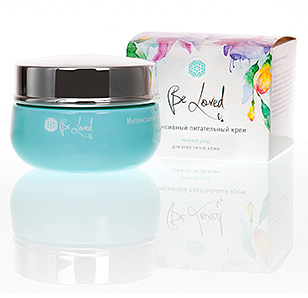 Night care nourishing cream with rich texture and wonderful aroma of summer blossom, which intensively recovers skin while you are sleeping. It is based on unique seaweed complex, rich with marine microelements. Skin is especially perceptive to active components at night, due to special lipids, they easily penetrate deep skin layers. Working at cellular level, its components stimulate renewal and growth of cells. Natural essential oils of shea, almond and wild mango deeply nourish tired skin, revitalizing it and eliminating aging signs.
50 ml 1,7 fl.oz
Made in Russia
Можно оплатить с подарочного счета
Intensively nourishes and strengthens skin. Activates its renewal and deep recovery, improves the speed at which cells are renewed and fights signs of aging.
For:
Those who are looking for personal treatment program.
Those who appreciate stylish packaging.
Those who consider quality and safety important.
Those who need to see results.
Building material for cells CellCode®57 (21 amino acids, 19 vitamins, 8 mineral salts, 6 nucleoids, 3 carbohydrates.) – 57 elements for a normal cell functioning. It's an exclusive development of Russian scientists, which is able to start regenerative processes in skin, stimulate new cells creation and provide a long-term anti-aging program. It's easily absorbed by skin, while bringing active components to the deepest layers of epidermis.
Seaweed extracts (Spirulina, Codium, Chrondus Chrispus) – natural complex of proteins, vitamins and minerals. It strengthens, tones and renews skin, preventing it from dehydration.
Stimulates intensive skin regeneration at cellular level.
Seaweed complex provides skin with necessary microelements and vitamins.
Helps to eliminate wrinkles and aging signs.
WATER, CELLCODE®57, PANTHENOL, SODIUM HYALURONATE, OCTYLDODECANOL AND OCTYDODECYL XYLOSIDE AND PEG-30 DIPOLYHYDROXYSTEARATE, ISONONYL ISONONANOATE, GLYCEROL, BUTYROSPERMUM PARKII, PRUNUS AMYGDALUS DULCIS (SWEET ALMOND) OIL, MANGIFERA INDICA SEED OIL, SIMMONDSIA CHINENSIS (JOJOBA ) SEED OIL, TOCOPHEROL, SPIRULINA EXTRACT, CROTON LECHLERI RESIN EXTRACT, CHONDRUS CRISPUS (CARRAGEENAN) EXTRACT, ACHILLEA MILLEFOLIUM EXTRACT, ECHINACEA PURPUREA EXTRACT, PLANTAGO LANCEOLATA LEAF EXTRACT, SALIX ALBA BARK EXTRACT, VISCUM ALBUM FRUIT EXTRACT, CHAMOMILLA RECUTITA FLOWER EXTRACT, HYDROXYETHYL ACRYLATE/METHOXYETHYL ACRYLATE COPOLYMER (AND) SODIUM ACRYLATE/SODIUM ACRYLOYLDIMETHYL TAURATE COPOLYMER, AZULENE, SILVER CITRATE, FRAGRANCE.
Apply onto clean skin on face and neck, avoiding eye area.
Spread evenly with easy massaging motions.

How to apply the cream according to massaging lines

Massaging lines correspond to collagen fibers and lymphatic system. The lines go through the least stretched skin zones, which helps to reach maximum benefit from the treatment.

Line application directions

Forehead - from center towards temples.
Nose – downwards on sides and from tip towards nasal bridge.
Chin – from center along protruded part of lower jaw towards earlobes.
Cheeks – from both mouth corners towards middle of pinna; from nostrils towards temples.
Neck – the product is applied to right and left sides, one-at-a-time. Spread the cream bottom-up towards chin, avoiding thyroid gland area. On the nape of your neck the cream should be applied top down towards shoulder blades.
Do not use if intolerant to any of the components.
Рекомендуем также