Aqua-balance cream
For all skin types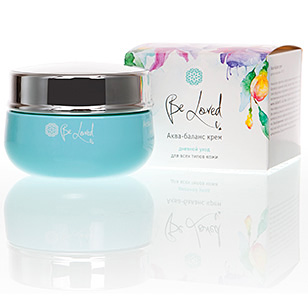 Soft cream with light texture and a tender hint of herbal scent literary melts on skin, while nourishing and recovering it at cellular level. Exclusive A.S.T.-base complex (Aqua Source Technology) unites three moisturizing components, naturally matching skin. These are hyaluronic acid, elastin and organic amino acid L-PCA, which perfectly complement each other's functions. The cream adapts to individual peculiarities and type of your skin, comforting and enhancing it. Its elegant packaging was designed especially for ladies to enjoy the resemblance with a mint candy.
50 ml 1,7 fl.oz
Made in Russia
Можно оплатить с подарочного счета
The soft cream effectively moisturizes skin, keeping it hydrated for a longer time. It makes the skin elastic, velvety and evens the surface, while protecting skin from exogenous effects, prevents irritation and facilitates regeneration. Regular use of the cream makes skin smooth and improves elasticity.
A.S.T. – base (L-PCA amino acid, hydrolyzed elastin)- powerful natural components complex, which fit natural skin structure and supports necessary hydration level. The components strengthen each other's functions and provide skin hydrolipidic rebalancing.
Building material for cells CellCode®57 (21 amino acids, 19 vitamins, 8 mineral salts, 6 nucleoids, 3 carbohydrates.) – 57 elements for a normal cell functioning. It's an exclusive development of Russian scientists, which is able to start regenerative processes in skin, stimulate new cells creation and provide a long-term anti-aging program. It's easily absorbed by skin, while bringing active components to the deepest layers of epidermis.
Seaweed extracts (Spirulina, Codium, Chrondus Chrispus) – natural complex of proteins, vitamins and minerals. It strengthens, tones and renews skin, preventing it from dehydration.
Ultralight texture is instantly absorbed and doesn't leave a feeling of a mask on your face.
The cream adapts to individual peculiarities of any skin type, while providing delicate and efficient care.
Has a gentle herbal scent.
WATER, CELLCODE®57, ISONONYL ISONONANOATE, A.S.T.-BASE (SODIUM PCA (AND) SODIUM HYALURONATE (AND) HYDROLYZED ELASTIN), GLYCEROL, SODIUM HYALURONATE, RESVERATROL, CAPRYLYL METHICONE, PANTHENOL, SQUALANE, AMORPHOPHALLUS KONJAC ROOT EXTRACT, CYCLOPENTASILOXANE, CITRUS AURANTIUM (NEROLI) OIL, MANGIFERA INDICA SEED OIL, HYDROXYETHYL ACRYLATE/METHOXYETHYL ACRYLATE COPOLYMER (AND) SODIUM ACRYLATE/SODIUM ACRYLOYLDIMETHYL TAURATE COPOLYMER, TOCOPHEROL, SPIRULINA EXTRACT, CROTON LECHLERI RESIN EXTRACT, CHONDRUS CRISPUS (CARRAGEENAN) EXTRACT, LITHOSPERMUM OFFICINALE EXTRACT, MAGNOLIA OFFICINALIS BARK EXTRACT, SALVIA OFFICINALIS LEAF EXTRACT, HAMAMELIS VIRGINIANA (WITCH HAZEL) EXTRACT, PANAX GINSENG ROOT EXTRACT, TREHALOSE, RAFFINOSE, SILVER CITRATE, ALLANTOIN, FRAGRANCE.
Apply onto clean skin on face and neck, avoiding eye area.
Spread evenly with easy massaging motions.
Suitable as a make-up base (use 15 minutes before make-up and 30 minutes before going outside).

How to apply the cream according to massaging lines

Massaging lines correspond to collagen fibers and lymphatic system. The lines go through the least stretched skin zones, which helps to reach maximum benefit from the treatment.

Line application directions

Forehead - from center towards temples.
Nose – downwards on sides and from tip towards nasal bridge.
Chin – from center along protruded part of lower jaw towards earlobes.
Cheeks – from both mouth corners towards middle of pinna; from nostrils towards temples.
Neck – the product is applied to right and left sides, one-at-a-time. Spread the cream bottom-up towards chin, avoiding thyroid gland area. On the nape of your neck the cream should be applied top down towards shoulder blades.
Do not use if intolerant to any of the components
Рекомендуем также